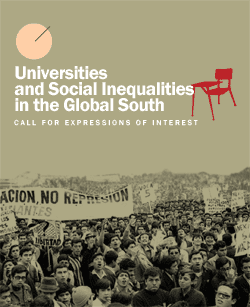 Are you familiar with research around the topic of universities and inequalities, particularly in the global South? Do you know of analyses that show that tertiary education is fulfilling its potential to reduce inequalities, or is there more evidence that higher education institutions contribute to increasing inequalities? If so, UNRISD would like to hear from you.
UNRISD is seeking Expressions of Interest from researchers who would like to develop papers, based on existing research, on issues surrounding universities and social inequalities in the global South. The papers will help UNRISD and its partners to develop a project proposal focusing on the role of universities in reinforcing or lessening social inequalities in low- and middle-income countries. The proposed project will explore the following questions: What potential does higher education have today to increase social mobility, reduce inequality and contribute to the advancement of society through the production of knowledge and skills? Are institutions of higher education contributing to inequality rather than equality, and if so, through what specific actions and mechanisms? How can the transformative potential of such institutions be fully harnessed for overcoming inequality?
If you would like to submit a paper proposal, please read all the materials at www.unrisd.org/EOI-UnSi-2019 carefully and send in your submission by 10 March 2019.
Specifications
Length of proposal in response to this Call: 500-800 words
Length of paper, if selected: 10,000
Language: English
Timeline
10 March 2019, 23:59 CET – Deadline for submission of proposals
1 April 2019 – Selected applicants notified
1 July 2019 – First draft due
1 September 2019 – Final draft due