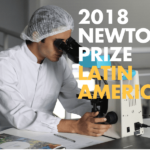 The UK National Commission for UNESCO is delighted to announce a great opportunity to be part of the Reviewer Team for the Newton Prize 2018, a prestigious global award for research and innovation in developing countries. All the applicants this year are from South American Newton Fund projects in Brazil, Chile, Colombia and Mexico and we need your skills to make sure the most deserving nominations win!
We are looking for experts from Industry and academia in the fields of Agriculture, Built Environment, Economic Development, Education, Energy, Engineering, Environment, Health, Manufacturing , Sustainability and Technology.  Reviewing is via an online portal which an be accessed at your convenience between 15 June and 31 July 2018.
Want to get involved? Complete this short form and we will be in touch!