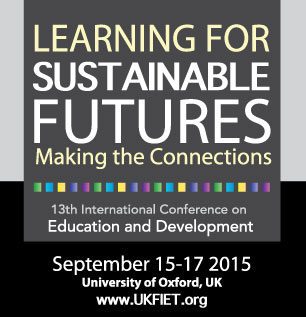 Our 13th Conference entitled, "Learning for Sustainable Futures – Making the Connections" will be held from the 15th to 17th of September 2015 at the University of Oxford. Calls for proposals will be published in early February 2015.
September 2015 will see international agreement on a set of global sustainable development goals which are likely to influence the future work of the education and international development community. The goals promote a vision of sustainable futures which are people-centred, just, equitable and inclusive, and which involve sustained and inclusive economic growth, social development and environmental protection that benefit the children, youth and future generations of the world.
The 2015 UKFIET International Conference on Education and Development invites you reflect on the implications of this vision for education and learning, and on the contribution that education and learning can make to the realisation of this vision. The Conference will adopt a broad approach to concepts of sustainability in relation to society, economy, environment and culture. What sustainable scenarios can we envision for the future?  And what are the connections between them and education and learning?
It is becoming evident that developing sustainable futures requires a less 'siloed', more holistic, approach to policy, planning and action. Stronger connections must be fostered between the various sectors and disciplinary traditions of education, and with other development sectors such as health, gender equality, food security, water and sanitation, industrialisation, energy and other areas from the proposed Sustainable Development Goals. Stronger intersectoral and interdisciplinary connections need to be forged within the international development research community.
Learning at all ages, whether it be formal, non-formal or informal, will play a vital role in the development of sustainable futures.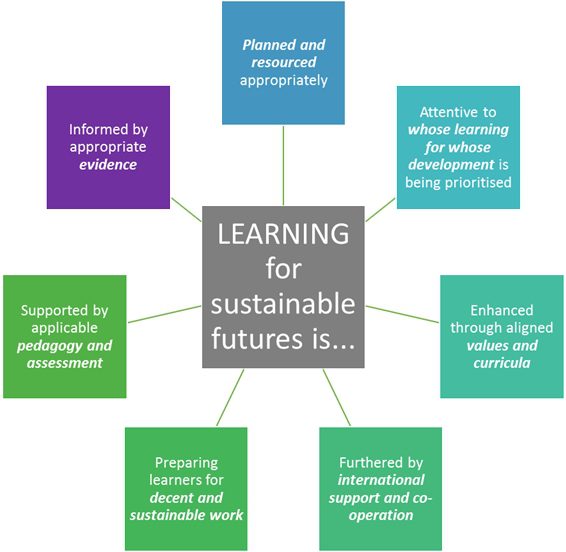 The following substantive questions are therefore posed for deliberation and form the conference sub-themes:
In the promotion of sustainable futures:
Whose learning for whose development needs to be prioritised?
What learning values and curricula should be emphasised?
How can pedagogy and assessment support learning?
What educational planning and resourcing systems are required?
What types of evidence are needed to inform learning?
What approaches to learning content, process and planning are needed to prepare for decent and sustainable work?
How should international support and co-operation evolve in the next decade and beyond?
Proposals which address the connections between visions of sustainable futures and sub-themes of the conference are invited. Those which do so in a multi-disciplinary nature and demonstrate connections to, reflection upon, and contributions from other areas of development are particularly welcome.
New in 2015
You told us what you want and we're responding. At the top of that list was more time for discussion. Making the connections between learning and sustainable futures requires such discussion and debate, so in 2015:
There will be a maximum of 3 papers per session to allow more time for Q&A and discussion.
We are scheduling fewer traditional paper and symposia sessions to make way for more interactive session formats and activities. Details about these developments will be announced as plans are confirmed.  This does not impact your proposal submission.  Please submit as normal.
Other features of 2015:
A meeting room is available to book for your small team gatherings. Contact Sarah for details.
No parallel sessions in the main plenary hall. Paper and Symposia sessions in the main plenary hall in 2013 suffered from distracting noise pollution, so we're sticking to individual rooms for all parallel sessions.
A new presentation format called a 'Pop-Up Talk'. Looking for a less formal option? Consider trying your hand at our new 'pop-up talk' format.
Quick Fires – Extending innovation for 2015
Following recent UKFIET Conferences, and most strongly in 2013, delegate feedback has consistently called for more time for discussion and debate. The Conference planning team are therefore incorporating new programming strands for the 2015 Conference.  Quick Fire sessions are a key innovation for that will help us meet this demand.
Quick Fire sessions are comprised of proposals selected from across the sub-themes, clustered around a cross-cutting topic. The main focus of the Quick Fire session is on interaction and debate.  The audience will be offered a series of short and provocative presentations followed by Q&A, discussion and debate from the floor.  Contributors will deliver five minute presentations succinctly stating their main arguments in a way that will encourage further discussion.

Publication Launch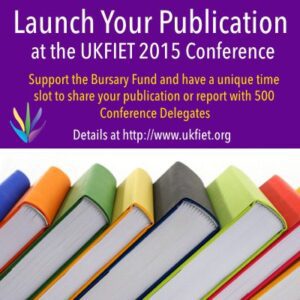 Do you have a report or publication you wish to share with the UKFIET Conference Delegates? Can you support the UKFIET Bursary Fund in a small but important way? If the answer is 'YES!', then please take the opportunity to use a session at the Conference to promote your work!
On Wednesday, 16 September, UKFIET is offering a 25 minute session for the purposes of holding launch events. We are asking only for a £100 (or more if you are able) donation to the Bursary Fund. Please see the Bursary Fund page to see why The Education and Development Forum (UKFIET) is pushing to expand Bursaries for the Conference.
This prime timeslot is dedicated only for the purpose of holding these launch events. The details are:
Only nine rooms are available on first come, first served basis based on payment of Bursary donation.
One page (A5) description of the publication in the Conference Programme with your Organisation's logo (if submitted by 25 August).
Support personnel, who have not registered for the Conference, may attend to support this session (special badging required) – specific details upon receipt of donation.
Contact Sarah Jeffery, Conference Manager, as soon as possible to secure your room. Information for the Conference Programme must be provided by the 25th of August for it to be included in the printed version.
Fringe Events

UKFIET is proud to support the following Fringe Events:
Submissions
Thank you to all who submitted proposals for the Conference. The review process has begun. You will be contacted in due course with an update to the status of your submission. The convening team kindly request your patience allowing for the unprecidented number of submissions to be reviewed.

Conference Paper Submission Templates
By August 14th, please upload the accepted conference papers. There are separate submission templates for papers and symposia. Pop-up talks and quick-fire contributions do not require a paper. To upload, please login to the UKFIET submission area at http://ukfiet.exordo.com. The Corresponding Author for the paper or the symposium should assume this responsibility ensuring the instructions are completed appropriately. Symposium Lead Authors you have the responsibility for managing the development of a single file for your symposium and uploading it in accordance with the instructions.
To standardise the papers and to provide instructions, templates have been provided and can be download below. Within the templates there are instructions for development and submission of the paper or symposium. The Conference will be using a mobile programme this year. Delegates will be able to read the papers before attending the session where they are presented. During the presentation, delegates will be able to open the papers to inform their questions. Additionally, this is an advantage to delegates who are users of assistive technologies.
Please download the correct template by clicking the icon below:
Key Dates
:: Call for Proposals – 3 February 2015
:: Proposal Submissions – 20 February to 20 March 2015
:: Bursary Application Deadline – 11 May 2015
:: Presenter Registration Deadline – 1 July 2015
:: Full Paper Submission Deadline – 14 August 2015
:: Presentations Upload Deadline – 10 September 2015
Conference Registration and Fees

Conference Registration is offered as follows:
:: Full registration – £400
:: Student registration  – £230
:: Day registration  – £190
Accommodation information is listed below.
Conference Venue
Conference proceedings are held at the University of Oxford Examination Schools located at 81 High Street, Oxford OX1 4AS. For further information and questions regarding accessibility and directions, please visit the Examination Schools website.
Conference Sponsors
UKFIET and its Members thank the sponsors for their support for the Conference.
Conference Exhibitors
The following organisations will be exhibiting at the 2015 Conference. Please take a moment to stop by their booth.
Accommodation
Rooms will be offered at New College, Oxford located at Holywell Street, OX1 3BN. The cost will be £85 per night with a two night minimum to be paid at the time of registration. Accommodation will be available for four nights beginning Monday, September 14, 2015.
Bursaries
UKFIET would like to thank the organisations and individuals who have generously sponsored the 2015 conference. Through this sponsorship, we are able to make available a small number of bursaries to assist delegate participation.
The window for submitting applications for the UKFIET Conference Bursary has now passed. Thank you for your interest.