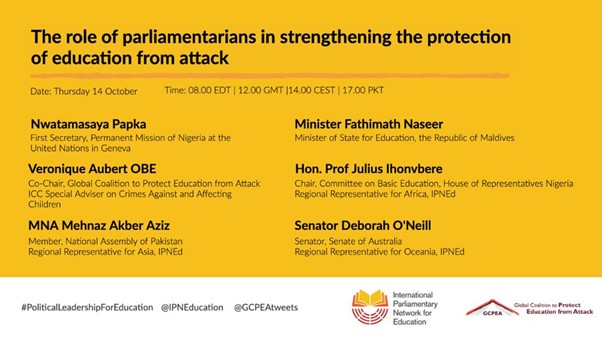 Date: 14 Oct 2021
Time: 1:00pm

Event Type: Webinar
14 October 1pm BST
You are invited to join the International Parliamentary Network for Education (IPNEd) and the Global Coalition to Protect Education from Attack (GCPEA) for a discussion on the role of members of parliament in encouraging governments to safeguard education from attack.
Ahead of the Fourth International Conference on the Safe Schools Declaration, our panel of distinguished speakers will set out their recommendations for how parliamentarians can work alongside civil society to ensure education is better protected from attack through endorsement and implementation of the Safe Schools Declaration.
The event will be opened by Veronique Aubert, the International Criminal Court Prosecutor's Special Advisor on Crimes Against and Affecting Children and GCPEA Co-Chair.
We will also hear from a range of other speakers, including young people whose education has been impacted by conflict.
The event will be conducted in English with simultaneous translation to Arabic, French and Spanish. For further information please use the Questions & Comments box below or email info@ipned.org.