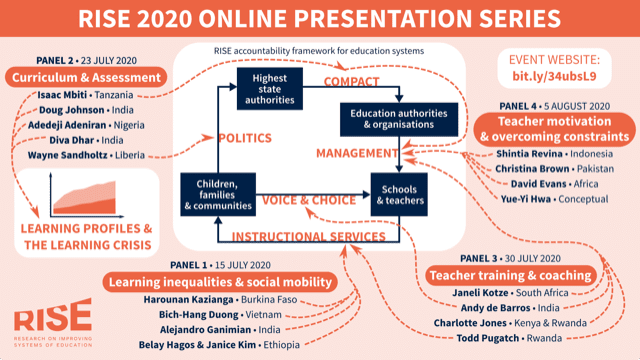 Date: 15 Jul 2020 - 5 Aug 2020
Time: 12:00am

Event Type: Panel
In the absence of the RISE Annual Conference, this summer's Online Presentation Series continues the RISE tradition of gathering emerging scholarship that considers the learning crisis from an education systems perspective. And since we cannot gather in person, we thought this was an opportune time to experiment with the event format. As such, each author will present their paper in a pre-recorded video that will be available via the RISE YouTube channel (and via the links below) prior to the "live" panel discussion taking place on Zoom. The panel discussion will focus on discussing each of the papers and Q&A from event participants, therefore we encourage everyone to watch the videos prior to the "live" event.
The first panel focuses on how to tackle inequality in learning outcomes. The second explores how to align curriculum goals and assessment to deliver learning. And the final two consider the role of teachers: how teacher preparation and coaching can improve learning outcomes when they are coherent with other elements of the education system, and finally how the design of career and compensation structures bear on teacher motivation and classroom outcomes.
Individual session registration links are listed here; pre-registration is required to join the event. Questions can be submitted during the event by those registered and logged in. All sessions will be live-streamed via the RISE YouTube channel and this event page.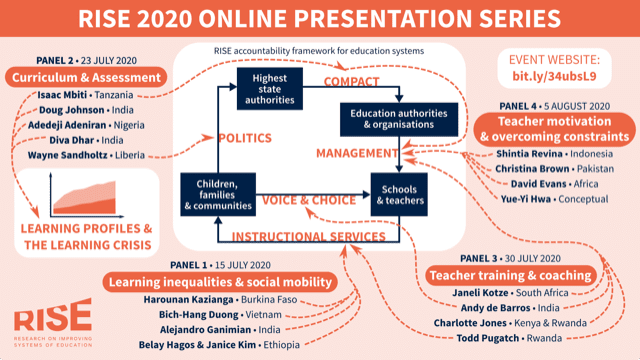 Learning Inequalities and Social Mobility
Wednesday, 15 July 2020
15:00-16:00 (UK)
Curriculum and Assessment
Thursday, 23 July 2020
15:00-16:00 (UK)
Teachers and the Teaching Profession I: Training and Coaching
Thursday, 30 July
16:00 – 17:00 (UK)
Teachers and the Teaching Profession II: Motivation and Overcoming Constraints
Wednesday, 5 August 2020
14:00-15:00 (UK)