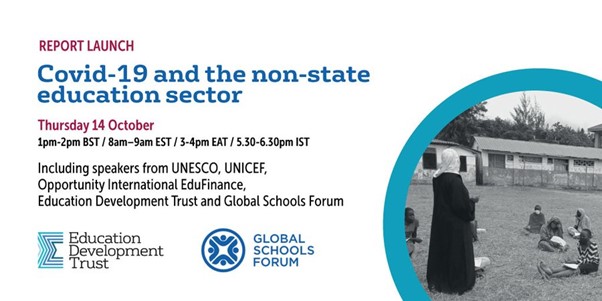 Date: 14 Oct 2021
Time: 1:00pm - 2:00pm

Event Type: Report Launch
Thursday 14 October, 1pm-2pm BST
The non-state schools sector (which includes low cost private schools as well as schools run by communities and NGOs) is an important component of global education capacity. Before the Covid-19 pandemic, around 1 in 5 primary school children, and 1 in 4 secondary school children, were educated in the sector, often including those from the very poorest communities. Yet, as the pandemic has demonstrated this provision is vulnerable to external shocks.
This research produced by Global Schools Forum and Education Development Trust provides new evidence and insights on the experience of non-state school provision during the pandemic, drawing on a global survey of school operators, and qualitative fieldwork in schools in India, Kenya and Nigeria.
Join us to hear more about the key findings of the research – and a discussion on what needs to happen next to improve the resilience of the sector and keep children learning.
Moderator: Priyadarshani Joshi, Global Education Monitoring Report, UNESCO
Speakers:
Joel Mullan, Global Schools Forum
Elnaz Kashefpakdel, Education Development Trust
Andaleep Alam, Office of Global Insight & Policy, UNICEF
Jane Aik, Opportunity International Edufinance
Further speakers tbd