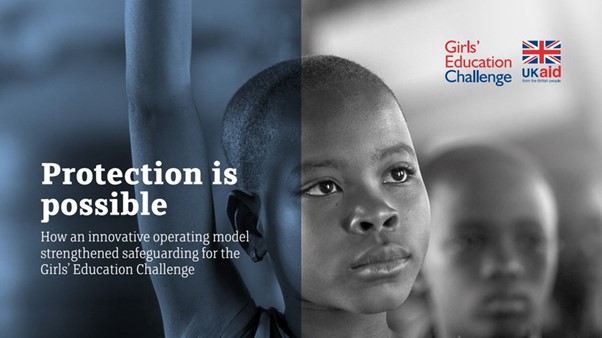 Date: 25 Nov 2021
Time: 11:00am

Event Type: Webinar
25 November, 11am
The Girls' Education Challenge (GEC) was launched by the legacy UK Department for International Development (DFID) – now Foreign, Commonwealth & Development Office (FCDO) – in 2012, as a 12-year commitment to reach the most marginalised girls in the world and is the largest global fund dedicated to girls' education. Although the GEC has worked on meeting its commitments to safeguarding since it began, the past two years have seen extensive, intensive and meaningful improvements in safeguarding work, including within the GEC Fund Manager and the GEC implementing partners.
'Protection is Possible' explores this journey and provides insight into the GEC's Safeguarding Operating Model and how this model contributed to meeting meaningful compliance to the GEC's Safeguarding Minimum Standards. Meaningful compliance has led to projects working on safeguarding in a participatory way with girls and staff, as well as in an increase in the frequency of reporting and the quality of case handling. The journey outlined within Protection is Possible is one that is full of hope – for the sector, and most importantly those involved in ODA programming.
Join us to hear from the GEC Fund Manager and GEC implementing partners on achievements, challenges and the legacy of implementing the GEC's Safeguarding Operating Model. During the webinar we will be hearing from Danielle Cornish-Spencer (GEC Safeguarding Lead), Naima Chohan (TEACH Pakistan), Joy Khangáti (AGES Somalia) and Harriet Kolli (GEC Safeguarding Consultant). The webinar will be chaired by Peter Taylor, Head of Safeguarding Unit, FCDO.