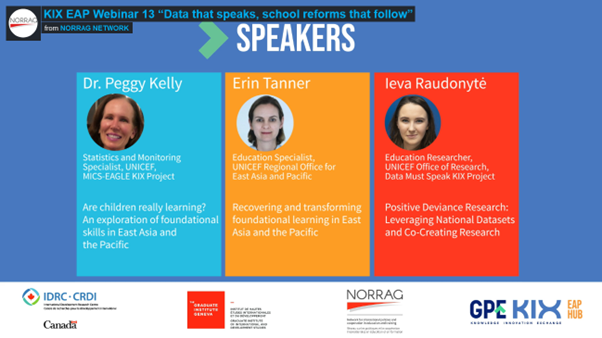 Date: 31 May 2022
Time: 1:30pm

Event Type: Webinar
31 May 12:00-13:30 BST
The 13th KIX EAP Webinar will take place on 31 May 2022 at 13:00-14:30 (CEST/Geneva). The webinar will deal with foundational learning in schools. It will illustrate how data has been used in some of the countries of the EAP region to understand (i) what the root causes are for poor student performance and (ii) what we can learn from those schools that are doing exceptionally well despite being resource-poor.
The webinar is organized by NORRAG in collaboration with two GPE KIX grantees:
The UNICEF Education Analysis for Global Learning and Equity (MICS-EAGLE) Initiative
The UNICEF Data Must Speak (DMS) Initiative.
Webinar outline
Are children really learning? An exploration of foundational skills in East Asia and the Pacific – Dr. Peggy Kelly, Statistics and Monitoring Specialist, MICS-EAGLE.
Recovering and transforming foundational learning in East Asia and the Pacific – Erin Tanner, Education Specialist, UNICEF Regional Office for East Asia and Pacific.
Positive Deviance Research: Leveraging National Datasets and Co-Creating Research to Uncover and Scale Local Solutions to Education Challenges – Ieva Raudonytė, Education Researcher, DMS Initiative.
Anyone is eligible to participate. Professionals and experts who work in, or have an interest in, international education and development are specially invited to attend the webinar. To be able to access the webinar, you need to register in advance.
After registration, please make sure to check your spam folder if you have not received the confirmation email. In addition, we recommend users from public institutions to use a personal email address to register as Zoom may be blocked by your place of work.
By completing this registration form, you agree that all data submitted will be treated and stored confidentially by the KIX EAP team. The information is requested for project purposes and will solely be used to inform the KIX EAP project monitoring, evaluation and learning process. In addition, we will contact you, following the webinar, for a follow-up survey and event highlights. To learn more about the processing of your personal data and the exercise of your rights, including the right to withdraw your consent to the use of the data collected on this form, please consult https://www.graduateinstitute.ch/privacy_policy.