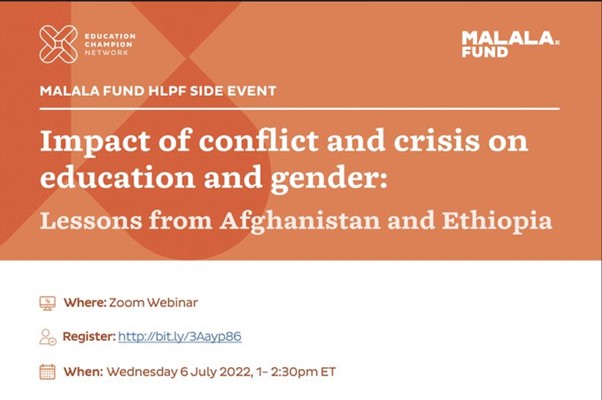 Date: 6 Jul 2022
Time: 6:00pm

Event Type: Webinar
6 July 6pm BST
Girls are disproportionately affected by crises and face multiple, compounding challenges to accessing their right to education. Afghanistan is now the only country in the world to prohibit girls' education, doubling the number of girls out of school at the secondary level and has cost Afghan girls more than 200 million days of learning to date. An estimated 3 million boys and girls across Afar, Amhara and Tigray regions in Ethiopia have been deprived of their right to education since November 2020 due to the war.
This year's High Level Political Forum (HLPF) offers a critical opportunity to explore this issue in more depth and identify recommendations for governments and the international community ahead of the Transforming Education Summit on 19 September.
This High-Level Side Event will provide an important space to focus on girls living in some of the hardest contexts to access education: Afghanistan and Ethiopia. It will bring together girls, education activists and high-level representatives from leading governments, agencies and organisations to identify the critical levers and gender-transformative initiatives that must be adopted in September to accelerate progress on SDGs 4 & 5 and ensure no girl is left behind.
Through this event we aim to:
Conduct a 'deep-dive' on girls' education in Afghanistan and Ethiopia to unpack the challenges and opportunities for girls' right to education.
Identify critical and gender-transformative actions that national governments and the international community must commit to at the Transforming Education Summit.