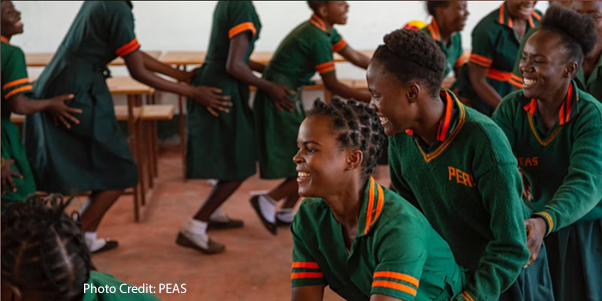 6 July 2022, 13:00 BST
72 million children in Africa miss out on secondary education. PEAS are here to change that.
Join us on Wednesday 6th July at 1pm BST to hear how we have managed to innovate throughout the pandemic to achieve greater impact. This 45 minute webinar will be hosted by Dr Peter Colenso, PEAS Chairman and expert in global education, health, and human development.
Despite extremely challenging circumstances, PEAS has grown exponentially in the last two years, with our school networks expanding in both Uganda and Zambia. Hear how PEAS' profile has grown with the Ugandan and Zambian governments, and how we are making an unparalleled impact.
Please note: Once registered, you will receive a link to the webinar link via an email closer to the date.
Host:
Dr Peter Colenso, Independent Consultant
PEAS team:
Laura Brown, CEO, PEAS UK
Henry Senaski, Country Director, PEAS Uganda
Beatrice Likando, CountryDirector, PEAS Zambia
Speakers will discuss evidence of the positive impact of PEAS approach to girls' education, expanding the PEAS network, and how PEAS is working with the governments of Uganda and Zambia to strengthen schools at a national level.
About PEAS:
PEAS has one of the largest and fastest-growing secondary school networks in Sub-Saharan Africa. Each year, 15,000+ students learn at 35 PEAS schools in rural communities across Uganda and Zambia. Over 50% are girls. PEAS is known for great schools. Our students come from poorer households, they start further behind, and and get better results.
Drawing on years of practical experience and local expertise, we work hand-in-hand with government, and others, to enable better classroom learning. That way, entire national education systems can deliver better secondary education to everyone.
The COVID-19 pandemic disrupted the education of millions of children. Uganda experienced the world's longest school closures, lasting almost two years. Zambian schools were closed for more than three months, with first-year secondary school students missing four and a half months.
PEAS supported over 181,000 students in Uganda and Zambia during the school closures through our robust remote educational support.