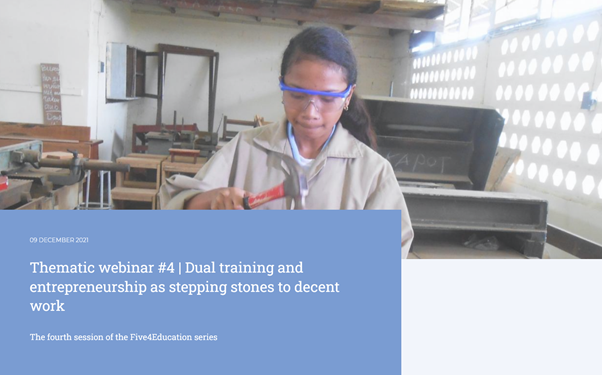 Date: 9 Dec 2021
Time: 11:30am

Event Type: Webinar
9 December GMT, 11:30am GMT
Technical and vocational skills can lead to decent work and sustainable income, a higher standard of living and successful social integration. For the society, the benefits of TVET are sustainable economic growth, an effective fight against youth unemployment, a reduction in poverty and greater social cohesion.
12:30-13:30 (GMT+1)
Pascal Montoisy, APEFE/WBI representative in Haiti, PACERD Programme Administrator – TVET Expert
Daniel Turiel, Director, ACTEC – Association for Cultural, Technical and Educational Cooperation
Moderator: Romeo Matsas, Senior Policy Adviser, Plan International Belgium
MORE INFORMATION AND REGISTRATION HERE
About the series
Educaid.be is organising a series of five webinars on Education in Development. Each digital session will address a specific theme linked to education and training.  
The objective of these webinars is to inspire professional actors working on education and training in the framework of international cooperation. It is primarily open to Educaid.be members and their partners, as well as to other actors of the Belgian development cooperation.
Each 60-minutes session will first start with a general perspective of the topic and an overview of the achievements realised by Educaid.be over the last five years. Then two experts will present their experiences from an operational perspective along with their recommendations that will be discussed by all participants during a Q&A session.
Recordings and presentations of the five webinars will be available
Language: English & French (simultaneous translation)
Participation is free but registration for each session is required