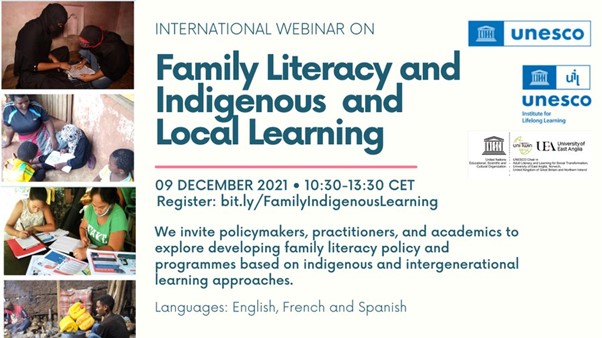 Date: 9 Dec 2021
Time: 9:30am - 12:30pm

Event Type: Webinar
9 December 9:30am-12:30pm GMT
Registration link: https://bit.ly/FamilyIndigenousLearning
We are pleased to invite you to participate in an international webinar on 'Family literacy and Indigenous and local learning', which will take place on Thursday, 9 December, from 10:30 to 13:30 Central European Time (CET).
The benefits of family literacy programmes, wherein children and adults learn together, are manifold. Moreover, lockdowns brought by the COVID-19 pandemic over the past several months have signalled a need to actively promote learning within the home and community.
This international webinar will explore the potential of family literacy to enhance the learning prospects of both youth and adults. Particular attention will be paid to the ways in which children and adults share knowledge and skills in everyday life, and the roles played by parents, caregivers, grandparents, siblings, cousins and community members in intergenerational learning.
The webinar will also provide an opportunity to share the latest research, policies and practices related to family literacy, Indigenous knowledge and new ways of learning.
Languages: English, French and Spanish (simultaneous interpretation)
Registration link: https://bit.ly/FamilyIndigenousLearning.
For further information, please contact the organizing team:
UNESCO Section of Youth, Literacy and Skills Development: literacy@unesco.org
UNESCO Institute for Lifelong Learning: uil-fill@unesco.org
University East Anglia, United Kingdom of Great Britain and Northern Ireland: chair@uea.ac.uk