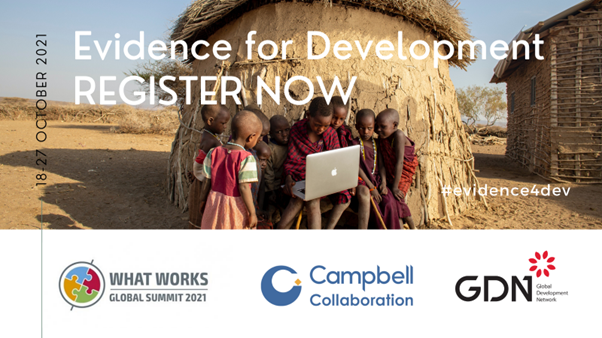 Date: 18 Oct 2021 - 27 Oct 2021
Time: 12:00am

Event Type: Conference
18 to 27 October 2021
The Evidence for Development: What Works Global Summit 2021 is a free online conference co-hosted by the Global Development Network (GDN) and the Campbell Collaboration. The conference is sponsored by the American Institutes for Research, the William & Flora Hewlett Foundation and the Development Bank of Latin America (CAF). Register and login to the Hopin platform to access the conference programme.
The Campbell Collaboration and the Global Development Network have joined hands to co-host a flagship event for this year. Please register now!
Titled, 'Evidence for Development: What Works Global Summit 2021,' the conference will target 400 participants, drawn from a diverse group of researchers, evaluators, policymakers, representatives of international organizations, civil society, development practitioners and the private sector. The call for proposals for this event is now closed, with 226 proposals received.
Registrations to attend this online conference are now open. Also see our programme at a glance (please refresh your browser for updates).
The conference will cover a number of themes and events:
Themes

Events 

Innovative approaches to knowledge brokering
Measuring Impact
Innovative approaches to impact evaluation and evidence synthesis
Assessing evidence claims
Climate change, biodiversity and development
Health-environment-economic wellbeing nexus
Inequality and social inclusion
Building resilience
Social protection
Mental health
Better business practices
Transitions (social, environmental, energy, political, economic) 
AI, big data, machine learning and development
Industrial policy and productivity
Youth employment
Quality of education
Crime and justice
Child protection
Governance and accountability

Parallel sessions in a range of formats to encourage broad participation
Rapid fire presentation sessions of the latest evidence for development
An online poster session and presentations of competitively selected short videos
A conference expo with information about the conference organizers and sponsors
Virtual coffee table chat sessions for networking
Plenary sessions by leaders in the field of evidence for development
#evidence4dev