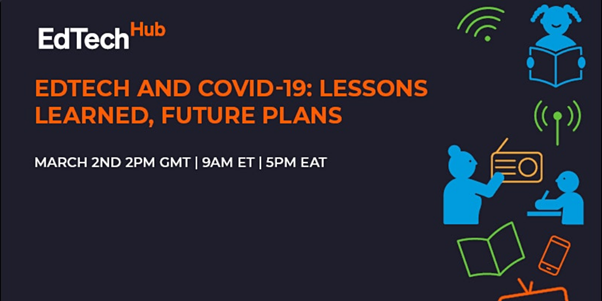 Date: 2 Mar 2021
Time: 2:00pm - 3:30pm

Event Type: Webinar
EdTech Hub is pleased to present EdTech and Covid-19: Lessons learned, future plans on March the 2nd (2pm GMT | 9am ET | find your local time here).
Covid-19 has reshaped our world. It is almost a year since schools closed their doors to nearly 1.6 billion children. This event will reflect on what this extraordinary year has taught us about using EdTech to keep children learning and how we can use these lessons to prepare for an uncertain future.
The event will hear from leaders who have been on the frontlines of education throughout Covid-19, including:
Helen Grant MP, UK Prime Minister's Special Envoy on Girls' Education 
David Sengeh ~ Sierra Leone's Minister of Basic and Senior Secondary Education and Head of the Directorate of Science, Technology and Innovation
Ranjitsinh Disale ~ Global Teacher Prizewinner 2020
Albert Nsengiyumva ~ Executive Secretary of the Association for the Development of Education in Africa
Sarah Shaikh ~ Director, Deaf Reach Program, Family Educational Services Foundation, Pakistan
The event will be hosted by Susan Nicolai, Director of Research, EdTech Hub.  
EdTech Hub will also launch a synthesis of its Covid-19 work: EdTech and Covid-19: 10 Things to Know.