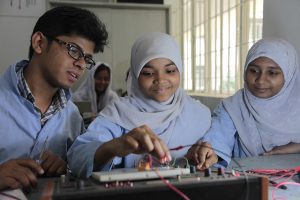 Date: 19 Jun 2020
Time: 5:00pm - 7:00pm

Event Type: Panel
The Early Career Professionals Network, sponsored by UKFIET, is hosting an event on 19 June 2019, 5-7pm at the Cambridge Education offices, London. In alignment with the biennial September UKFIET conference, which this year focuses on Inclusive Education Systems, this 'next generation' event will focus on the theme of disability and its intersection with research, implementation and putting policy into practice.
As part of the event, there will be a panel discussion featuring Early Career Professionals from Plan UK, Cambridge Education and others to be confirmed, who will discuss their own work and experience of working for inclusion in international education. Some of the questions and themes will focus on:
How can inclusive learning environments be best provided for children with disabilities, given the financial constraints of both schools and ministries of education?
How can teachers be supported to identify and meet the needs for the variety of different learning and physical disabilities that they may encounter?
What does inclusive teaching practice look like, particularly for children with disabilities? Given teachers' large classes and lack of training, how can teachers be supported to demonstrate this type of practice?
What are the best ways to assess children with disabilities who do not meet the minimum competencies for their grade level? How can these be incorporated into a national assessment system?
We are inviting participants who are Early Career Professionals from a range of backgrounds. We hope to provide an engaging Q&A session after the panel discussion. To conclude the event, there will also be an opportunity for networking with some refreshments.
The event is free to attend but space is limited so please only register if you can make this evening slot in London.
UKFIET will be tweeting from the event. Please use #NextGenVoices and follow @UKFIET for more information.