Date: 5 Nov 2020
Time: 2:00pm - 3:30pm

Event Type: Panel
2020 T20 Saudi Arabia Summit Side Event 
COVID-19 and the Global Education Emergency: Planning Systems for Recovery and Resilience 
When: Thursday, 5 November 2020  
Time: 9 – 10:30 am EST; 11 am – 12:30 pm Argentina; 3-4:30 pm CET; 5 – 6:30 pm Riyadh 
Languages: English and Spanish 
Join English: https://youtube.com/WesternUniversity 
Join Spanish: https://youtube.com/cippec 
Contact: infoeducacion@cippec.org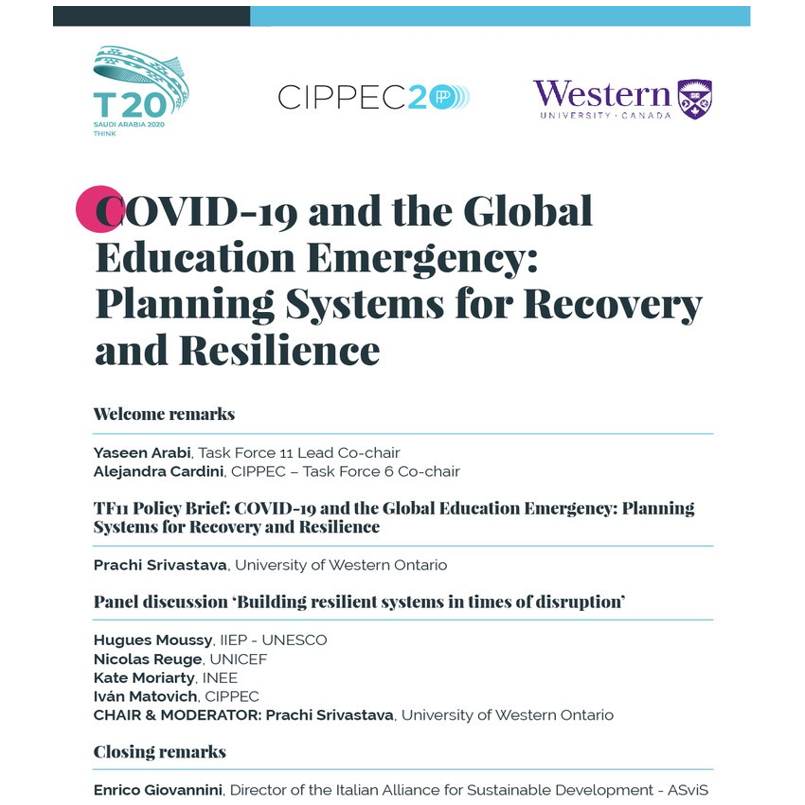 Background 
The pandemic necessitates immediate policy action to address the grave global health and socio-economic effects of COVID-19 to unprecedented scale. Special Task Force 11, (COVID-19) Multidisciplinary Approaches to Complex Problems, was created within the structure of Think 20 (T20) Saudi Arabia to consolidate recommendations to provide policy direction, with a focus on the vulnerable, to meet the wide-reaching immediate consequences of the pandemic and a view towards recovery and reconstruction.   
In education, the pandemic has resulted in the largest disruption in history. It has exacerbated existing inequities and created new severe gaps that threaten progress all countries have made. Schooling disruption and continuing education systems issues have serious long-term social consequences and to national economies. 
The pandemic exposed the scale to which education systems were unprepared for crises. G20 countries face dual challenges. All must respond domestically to their unique circumstances, and, some, as OECD DAC donors. Given their influence, their policy responses will have domestic, regional, and global implications.  
Side Event Aims 
This side event aims to mobilize and extend knowledge from the T20 Task Force 11 policy brief, COVID-19 and the Global Education Emergency: Planning systems for recovery and resilience, within and beyond T20 networks, as the 2020 T20/G20 Saudi Arabia Summits come to a close and in view of the transition to 2021 T20/G20 Italy.  
The T20 Secretariat presented education policy recommendations for the 2nd Ministries of Education official meeting organised by the G20 Education Working Group. A number of recommendations from the brief were incorporated in the T20 Saudi Arabia high-level Calls for Commitment to Education.  
This side event comes at a crucial time as most countries continue to experience disruptions to regular and continuous education provision, and many have entered a second academic year affected by the pandemic. The event will present the brief's recommendations. It will engage in a frank interactive discussion with co-authors on building resilient systems for recovery and connect with their individual and organisational fields of expertise. This will be extended by summative commentary from T20 Task Force 6 and 11 Co-Chairs and Executive Director, ASviS Italy. 
The side event seeks to address the following questions: 
What are the key recommendations for building more resilient systems in view of the pandemic? 
What key interventions seem potentially critical in addressing some of the challenges? 
How can countries respond to the education crisis with regards to systems planning and delivery? 
The brief was led by Prof. Prachi Srivastava (lead author, Western University), co-led and co-authored by Alejandra Cardini (T20 Task Force 6 Co-chair and Education Director, CIPPEC Argentina), and co-authored by Iván Matovich (CIPPEC Argentina); Hugues Moussy and Amélie A. Gagnon (UNESCO–IIEP); Robert Jenkins and Nicholas Reuge (UNICEF); and Kate Moriarty and Sonja Anderson (Inter-agency Network for Education in Emergencies [INEE]).