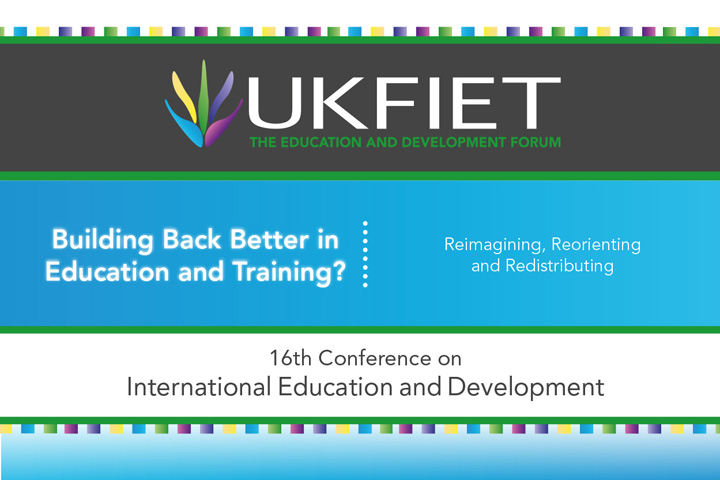 PROPOSAL TYPES 
All proposals should relate to the overall conference theme and link to one of six sub –themes.
Paper:  A presentation informed by theory and / or empirical data which prompts purposeful discussion.   Up to six papers will be scheduled per 90 minute session, providing 5 minutes for each presenter and time for discussion. The work should not have been published elsewhere and should not have been submitted for publication prior to the conference. Alternative formats for presenting papers may also be available.
Symposium:  Symposia can take a variety of formats offering different perspectives on a specific topic, issue or programme.  We encourage imaginative formats as well as more traditional offerings; possible formats include 3-4 related papers, 6 short talks or a facilitated discussion. All symposia should aim to prompt inclusive stimulating discussion. Symposia will be scheduled for a 90 minute slot.  Please be aware that there will be a limited number of programme slots for symposia in the 2021 conference.  The Conference Committee will be prioritising symposia proposals that offer critical reflection on programmes and cross-constituency dialogue.
Each symposium will require an organiser who serves as principal contact.  Symposia must also have a nominated chair and may have a nominated discussant. If the contributions are all from one programme or constituency the discussant should be external to the programme or from a different constituency.
Please note that all those participating in the session will be expected to register and pay to attend the conference.
SUBMISSION GUIDELINES
The following are guidelines for the types of submission invited for consideration.  The Conference is using the Ex Ordo abstract submission system. Please follow the instructions on screen during the submission process.
TYPE OF SUBMISSION
MAXIMUM No. of WORDS
(references are not required but must be included in the word count if used)

NOTES
Paper
300 words
Please note that these will undergo blind review so we ask that you do not identify authors in the main text of the abstract
Symposium
700 words
The 700 word abstract should include:

Title, organiser and chair
Title and author/presenter(s) for each contribution in the session
Overview of the symposium, including interactive elements
A brief explanation of how the organiser has addressed diversity in the make up of the symposium members.
Abstracts are expected to show a clear link to the overall conference theme and chosen sub-theme.
Avoid including references in the abstract unless essential (but these must be included in the word count if used).
Avoid an overly long title for your abstract.
Ensure that the context of your abstract is sufficiently clear, e.g. country(ies) of focus, level of education or training addressed, type or period of research etc.
Indicate, if appropriate, whether the abstract is based on ongoing or completed research.
Use clear and concise language. The official language of the conference is English. We encourage authors to have their work proof-read before submission.
Due to pressure of space on the conference programme, abstracts will not be accepted after the deadline of 23:59 BST,  Monday 29th  March 2021 
ABSTRACT REVIEW PROCESS
Each abstract will be reviewed by at least two members of the Conference Committee and assessed against each of the following criteria:
Relevance; does the paper directly interrogate the conference  theme (Building Back Better in Education and Training?) and the chosen sub-theme
Originality; are there new thoughts, arguments, findings, methodologies or ways of addressing the topic?
Clarity and coherence of the enquiry or activity or conceptual framework
Significance for educational practice, policy or theory
Submissions for symposia will also be reviewed based on diversity and representation, and on the plans for quality interactions with attendees.
The review process for papers will be blind, and reviewers will not have sight of presenters'/ authors' names. Symposia abstracts include presenter names and the review process will not be blind.
In recent years the number of submissions has greatly exceeded the conference capacity. The Conference Committee will allocate each selected submission to the format most suitable.
Conference Committee decisions on the abstract review process will be communicated to authors by late May.
CONDITIONS FOR PRESENTERS
Abstract submission: All types of proposal require an abstract. Please see submission guidelines for the criteria for the different types of proposals.
One-time presentation: We will continue to implement a one-time presentation rule. You can be a named author or contributor on several submissions, but you can only present once.  Please plan your submissions accordingly. Symposia chairs and  discussants can also present papers in other sessions.
Conference registration fees: all presenters and symposia members will need to pay the conference registration fee. As this is a virtual event, registration fees will be reduced.
Presenter registration deadline: In order to plan the conference timetable presenters of accepted submissions,  must register by 1 July 2021 to have their contribution timetabled. Failure to register and pay for your place by 1 July 2021 will result in your contribution being excluded from the programme.
Presentation / paper expectations:   we require presenters of all accepted papers to upload either:
a set of slides with a five minute audio commentary, or
a 5 minute video presentation
by 9 August 2021.
In addition, presenters may also provide (optional)
A short paper outlining the key points of your presentation (max 2000 words) or,
A blog style piece discussing issues in your presentation (up to 800 words)
Symposia organisers will be responsible for the uploading of slides and any other materials relevant to their sessions by the same date.
These outputs will be made available to session chairs in advance of the conference and to conference participants during the conference.
We encourage presenters to give careful consideration to the number of slides they prepare; we recommend a maximum of 5 slides for a 5 minute presentation.
Presentations will be accompanied by live Q&A session.